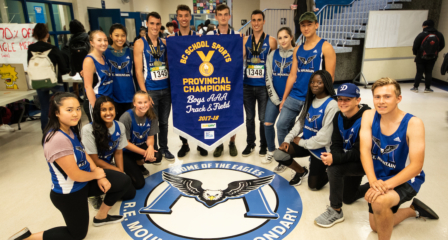 Welcome to the R.E. Mountain Athletics Webpage. The athletic program at R.E. Mountain Secondary School, grounded in integrity, promotes character development and collaboration.  We believe that athletic competition is a powerful teacher.  Physical and mental challenges in a team context offer athletes the opportunity to develop leadership skills, self–confidence and a commitment to others that will inspire them to lead productive and active lives.
Mr. Rob Hayes
REMSS Athletic Director
rhayes@sd35.bc.ca
---
Important Information
Required Forms:
All student athletes' parents/guardians must complete the Medical Form as well as agree to the R.E. Mountain Athletics Code of Conduct.
Athletic Fees:
Participation on any team will require a payment of an Athletic Fee. This fee covers expenses such as scorekeepers, officials, league fees, tournament fees, uniform and equipment replacement, and athletic banquet admission.
Eligibility:
British Columbia School Sports (BCSS) governs high school athletics across the province. They make all decisions regarding athlete eligibility. When a student enter Grade 9 and is registered with BCSS, the school they are registered with becomes their "Home School". Any movement to another school will require approval from BCSS. Depending on the circumstances of the move this process may be as simple as submitting a simple form or it may require a more rigorous application/appeal process.
---
Program Goals
Measure the success of our program by the degree to which individuals and teams embody our district's Athletics Core Values (Community, Courage, Integrity, Excellence).
Staff teams with coaches of good character, with competence in teaching technical skills and who possess the ability to motivate and relate positively to student athletes and adults.
Celebrate the joy of competition and the benefits of physical fitness.
Develop individual athletes and teams that are constantly improving, hard–working, disciplined and schooled in the fundamental aspects of their sport.
Allocate equipment and resources to support the mission of the program equitably and appropriately for participants of all genders and skill levels.
Provide a safe environment for all athletic activities.
Produce teams that are competitive and strive to win.
Offer a variety of team sports and encourage a breadth of athletic experiences.
Expect all members of the R.E. Mountain community to demonstrate respect for opponents, officials and the rules of competition.
Develop in athletes an appreciation for the specific traditions, rules and cultures of their sport.
Build healthy, enjoyable and supportive team environments based on trust.
---
Fans Code of Conduct
R.E. Mountain strives to encourage good sportsmanship throughout our athletic program, and this includes good fan behaviour. We expect all spectators at our contests to be respectful of players, coaches, officials, and other spectators. Fans are encouraged to applaud the efforts of their team and should not engage in any behaviour that is critical, distracting, or derogatory toward opponents or officials. We believe it is imperative to let the players, coaches, and officials play the game. Fans can be an "extra person" for their squad, supporting and cheering on their side, but our school will not permit any behaviour that detracts from the proper conduct of the game or disadvantages a player or team.
This error message is only visible to WordPress admins
REMSS Sr Girls and Sr Boys Basketball Teams Call a Foul on Cancer!

January 25, 2023

-

Your senior girls and boys basketball teams hosted a Pink Whistle fundraiser evening of hoops on January 24, where both teams played games against WJ Mouat from Abbotsford, and fans, players, coaches, and officials were encouraged to donate to cancer research. In the end, the teams raised just over $100. Find out more info on... Read more »