May 26, 2016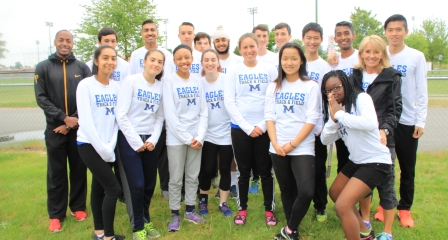 Our Eagles are truly soaring, as they've proven to us many times before. Big strides are racing towards us in Track and Field news, as Mountain has five athletes qualifying for Provincials! Xavier Soh placed 6th in the Fraser Valley's and helped teammates Jordan Schmidt, Zac Wyatt and Tate Wyatt secure the 1st place in the Junior Boys Relay. The team's time was an astonishing 3:33 minutes, just one second short of the Fraser Valley record of 3:32. Zac Wyatt placed first in all 3 of his events, and we couldn't be more proud. His shoes have grown strong Eagle wings, like we've all known they would.
The Wyatt boys additionally broke another FV record in the Steeplechase. Tate in particular finished with 4:35, crushing the 4:40 that was the previous time to beat. They boys also placed 1st and 3rd in the 3000, impressing all of us with their continuous casual cardio.
Their sister, Autumn, placed 7th in the FV, with a time of 5:42 in the Steeplechase. She will also be competing in provincials. Joining her is Lauryn Chung and her pole vault that placed 3rd in the FV.
Eagles are speeding along the right track, and finishing with victories in the try zone. The Junior Boys rugby team capped off their incredible season with huge smiles. Their coaches, Jeff Koruz and Rob Hayes, were ecstatic to share that, "The eagles possessed an overall record of 13 wins with 2 defeats. In addition the eagles outscored its opponents by 483 points as they averaged 46 points per game." The boys kept themselves behind the try line and completed their season with "a 12 game winning streak and impressive victories over perennial powerhouses Robert Bateman and Earl Marriot," according to their coaches.