May 17, 2018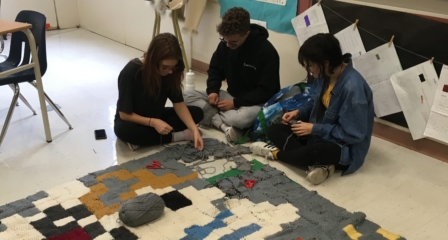 Students at REMSS have been busy! An initiative was started in January to bring awareness to both the First Peoples Principles of Learning and Aboriginal Wordview and Perspectives.
An image was created by Elspeth Brotherton and Dawson Schwab, two amazing Aboriginal students at REMSS. They created a thoughtful design full of symbolism that would eventually become the hanging mural. The art was then transferred into a pixilated image, one that could be created with individual squares. The idea being that the student population would have an opportunity to weave a square, and in doing so contribute to the mural.
The act of weaving allowed for inclusion of the First Peoples Principles of Learning, specifically of:
– patience and time                        – learning through experience
– indigenous knowledge as equal to all forms of knowledge
– community and collaboration
It was important to have the activity incorporate weaving without appropriating indigenous weaving practices, making the experience, imagery and student roles in the project the focus.
Now for the tricky part, organizing and inviting student engagement in the creation of the mural. We needed weavers! Elias Robinson, another Aboriginal student, worked to coordinate student participation during FLEX. By advertising, counting finished squares and running the FLEX periods, the woven squares began to pile up!
Finally, the initiative also made its way into English, Science, Math and Social Studies classrooms, where students discussed the importance of respecting Indigenous culture, learning the modified weaving technique, and discussing how the principles of learning were present in the task. Students wove, chatted and reflected on the process.
With the hard work and dedication of all students and staff at REMSS the mural is now complete! It looks forward to its home in the new REMSS building for all to admire alongside the artist statement and canvas of signatures that represents all those that contributed.