A Student-Centred, Authentic Place of Learning
Authenticity and student control are at the centre of R.E. Mountain Secondary's Action Plan. In fact, the shift of control from teacher to student, in and of itself is a step toward a more authentic learning environment. The end goal is to improve student learning and their perception of their learning through these focuses. Each department in the school is determining their own actions to meet one or both of these ideas which will, in turn, lead to R.E. Mountain supporting the mission and vision established by the District to be an "innovative, inspiring and unified learning community" and having "all students reach their full potential and create a positive legacy for the future."
School-wide structures that have contributed to our plan include:
Regularly scheduled collaboration time allowing staff to meet and plan together, unifying their approach within departments
Curriculum Implementation Day (10.06.17), where teachers planned together to discuss strategies under the umbrella of the Redesigned Curriculum
A significant focus on student lead service to the school, the community and internationally creating the basis for multiple clubs in the school and providing opportunities for students to develop leadership while pursuing an area of passion and helping to make the world a better place
Adjustments to the timetable that permit students to learn outside of the school on a consistent basis, locking morning and afternoon as well as daily schedules
Providing a MyBluePrint account for all students which includes opportunities for students to build their portfolios and plan for their future.
A focus on Aboriginal perspectives and ways of knowing in staff meetings and supported by an Aboriginal Perspectives department head has added an element of authenticity, certainly to our students of First Nations heritage but also provides a context for all teachers and students to understand the importance of truth and reconciliation in our country
Implementing "Flex Time" allowing students a block within the day where they can choose where they would like to go, whether to follow a passion area or seek help in a subject where they are struggling
Providing additional blocks and a department headship to the are of Career Education is helping students to determine what their place in the world is and how they can contribute as they plan for their careers
Implementation of Office 365 among teachers and students will provide an online platform for collaboration. planning, online classroom environments, common platform for documents and archiving
Establishing a sister-school partnership with a Suzhou Industrial Park Foreign Language School, a school which offers the BC curriculum and the International Baccalaureate Program in China – providing opportunities for students and teacher to collaborate with a school in a different culture, encouraging short-term exchanges and establishing a relationship what will help to encourage international mindedness
Departmental plans are documented in the menu bar to the left. Between the school-wide structures and the departmental goals, it is hoped that students will be able to take better control of their learning, that teachers will be able to observe an improvement in student learning and that students will feel better about their learning. The questions asked to determine success will be simple:
How has teaching practice changed to support this initiative
How do teachers feel the changes have improved student learning
Do students feel that the changes have positively impacted their learning
REFLECTION
Working with departments to improve practice has been a positive step at R.E. Mountain Secondary. This strategy has leaned heavily on the leadership and expertise of the department heads who, in many cases, have spearheaded the departmental initiatives. Departmental focuses improved teacher engagement and fostered deep discussion as teachers worked together to incorporate ideas from the redesigned curriculum into their classes. Changes that were adopted by departments were more readily accepted than changes that were centrally driven.
Engagement Survey:
In 2015, analysis of the engagement survey indicated that it was inconsistently administered. In addition, the sample of students surveyed may not have been representative. Discrepancies were evident in how students answered simple yes/no questions in a survey that gave them a continuum of options between strongly disagree and strongly agree. For instance, the question around expectation to graduate only generated a positive indicator for the answer strongly agree, while many answered the question with agree. Discrepancies like this reduced confidence in the initial results. It was believed that the survey was still beneficial, so instructions around how to answer some of the questions were made clearer in the next administration of the survey in order to generate more accurate results.
In 2016, just under 900 students were surveyed providing a much better sample. While there may still be issues with the way in which questions are asked and responded to, the data will still provide the opportunity to determine if the school is improving or not within various areas.
Involvement in innovative programs:
Personal Project is a class where students must generate their own projects and present them to the class in order to generate the credits for the course. It requires them to be completely in control of their learning. Just over 20 students enrolled in Personal Project in 2014/15, with the class filling completely in 2015/16. More interest is being generated in this course with expansion into grade 11 and 12 being implemented for 2016/17.
Rec. Leadership is a class where students run tournaments, coach teams, support athletics and intramurals and promote school events. This class has a significant waitlist and the possibility of expanding the scope of leadership in the school and having more students involved is being considered for this year.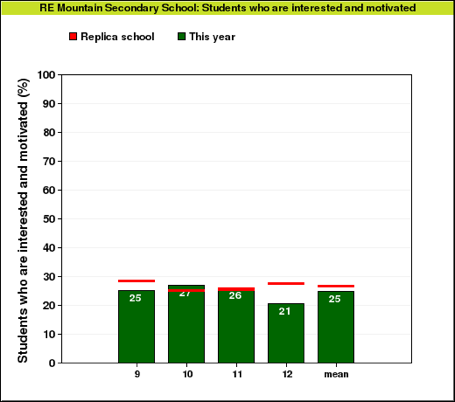 55 students were enrolled in work experience last year. They completed 25 hours of classroom instruction and were placed in local businesses and organizations for 90 hours. We will begin to survey these students to determine the effectiveness of this program and ways to better serve students in the future. Already there have been many positive stories generated from student experiences in this program.
CAS – Creativity, Action and Service is a component of the IB program. We have focused heavily on the service aspect, believing that the act of giving is a significant part of being human. While many would argue that the students are only serving because of the required credit, the evidence shows something quite different. CAS only requires that students provide roughly 50 hours of service over a two-year period. Most of our students go well beyond that with some exceeding 200 hours. While they might begin service because of the requirement, most continue because of their passion.
The Drafting Program has purchased a 3D printer with which they hope to begin creating prototypes and generating real models of their 3D work in CAD. This is the beginning of our venture into a maker space, providing students with a venue where they can identify problems, and work on solutions, promoting an entrepreneurial spirit, ultimately, leading to the provision of service to the community.
Engagement data gathered at the end of 2017 is currently being examined for inclusion into this report.