Aboriginal Worldviews and Perspectives
The Langley School District has initiated the: Aboriginal Worldview and Perspectives Department Head position. Through the leadership of the Aboriginal Department, monthly meetings have been held to educate and mentor department head representatives from all the secondary schools in the district. This community of educators have begun the process of learning how to effectively and sensitively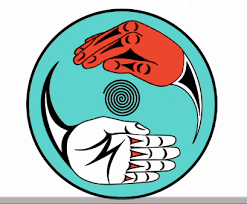 incorporate Aboriginal content, Aboriginal traditional knowledge, Aboriginal history and First Peoples Principles of Learning, all the while, learning from the unique and valuable voices of our local Aboriginal communities.  This aligns with the Truth and Reconciliation Commission of Canada: Calls to Action. Please view R.E. Mountain Secondary School's progress through the lens of these education specific Calls to Action.
Calls to Action: Education and Reconciliation
Truth and Reconciliation Commission of Canada: Calls to Action. Winnipeg, Manitoba: Truth and Reconciliation Commission of Canada, 2015. Pg. 11.
We call upon the federal, provincial, and territorial governments, in consultation and collaboration with Survivors, Aboriginal peoples, and educators, to:
Make age-appropriate curriculum on residential schools, Treaties, and Aboriginal peoples' historical and contemporary contributions to Canada a mandatory education requirement for Kindergarten to Grade Twelve students.
Creation of Aboriginal Worldview and Perspective Department Head.
Support of Department Heads at a district, and school level for leave to attend Pro-D.
Aboriginal Worldview and Perspectives Department Head staff meeting presentations on:

Impact of Residential Schools (Paper Bag activity)
Education on the Langley School District Aboriginal Program purpose and initiatives.
Education on achievement of Aboriginal youth on a provincial level within our education systems.
The sharing of specific classroom activities, strategies, resource links, and handouts that link to the First Peoples Principles of Learning
Sharing specific ways to connect classroom activities to local First Nations culture.

Photocopying and distributing resources from: 9000 Years of History in the Land of the River Peoples: The Sto:lo
Highlights of the use of age appropriate resources and curriculum include:

PE Department: Pow Wow Dance Instructor, all PE classes impacted
Art Department: Young Artist Warriors presenter, all Art classes impacted
Social Studies Department: Cecelia Reekie cultural presenter in several capacities including Residential School presentation and the KAIROS Blanket Exercise, select classes impacted
English Department: Use of Aboriginal fiction, non-fiction and poetry texts including authors Sherman Alexie, Tomson Highways and Thomas King, all English classes impacted.
French Department: Acquiring Indigenous picture books, short stories, department wide
Drama Department: Truth and Reconciliation Assembly with authentic Indigenous monologues including Chief Dan George's Lament for Confederation, school wide.
Math Department: Using Indigenous imagery and art in the study of symmetry, several classes impacted.
Electives Department: Family Studies using circle formation for sharing, one class impacted.
Math Department: Using the traditional salmon spawn in ratio studies, one class impacted.
Next steps towards this Call to Action:
Continued focus on strategies verse content.
Improvement in explicitly identifying when a strategy stems from Indigenous knowledge or ways or knowing.
Consistent use of First Peoples Principles, to the extent that students can identify and explain principles.
Strengthening the school relationship with Kwantlen, Katzie and Matsqui First Nations.
[Provide the necessary funding to post-secondary institutions] to educate teachers on how to integrate Indigenous knowledge and teaching methods into classrooms.
A successful model at R.E. Mountain Secondary School this year has been the simultaneous experience of both students and teachers learning alongside one another.

Example: Young Artist Warrior's week long presentation served as both direct student exposure to Indigenous content but also professional development for all three Art teachers.

FNESC continues to be an invaluable professional development website, resource provider and connection to First Peoples Principles of Learning.
Mentorship and Instruction for all Student Teachers doing long or short practicum at REMSS on Aboriginal curriculum inclusion.
Collaboration Workshop on: How to use Consensus Circles in your Classroom
One-on-one teacher support for topical resources, lesson plan ideas, guest speaker bookings, assistance with cultural presenters and pro-d opportunities.
Next steps towards this Call to Action:
Professional Development on cultural safety and cultural sensitivity for all staff.
Collaboration on cross-curricular opportunities to embody holistic nature of First People Principles.
A developed budget to support in the booking of presenters, resources and field trip opportunities.
Utilizing the Aboriginal Department sponsored application program, and ensuring proposal meets deadline
These actions have been determined in addition to the following which were implemented in the 2015/16 school year either school-wide or with individual teachers:
Poster in all areas of the school acknowledging that the school resides on Kwantlen, Katzie and Matsqui First Nations Territory.
A board in the hallway explaining Truth and Reconciliation
A school-wide Truth and Reconciliation Assembly
Readings containing Aboriginal texts have been supplied to the English Department
Science classes are comparing the periodic table to traditional Aboriginal knowledge of the elements as well as both the Math and Science departments infusing story-telling into their classes
The Social Studies department is reading through "The Inconvenient Indian" and discussing treaty rights
The Drama department was instrumental in providing monologues to enhance our Truth and Reconciliation Assembly
The PE department is including a unit on Aboriginal dance
The Business Education department is researching aspects of business related to Indigenous peoples including food price inflation and business ownership on unceded territories
The Art department is looking at the protocols of using Indigenous art
Weaving is being introduced in Textiles and Art classes
Planning classes are incorporating the medicine wheel into their classes in relation to balancing life
Data will be gathered in Spring of 2018 to determine how teachers and students feel implementation of these Calls to Action are impacting student learning.
SPRING 2018 ACTIONS AND REFLECTION
Indian Horse Movie
185 students from grade 9-12 attended an educational viewing of the adaptation to the novel Indian Horse
4 teachers attended the viewing as a professional development opportunity
Opening Collaboration Day
Consensus Circle workshop
Teacher professional development on how to have circle discussions in classroom
Connections made to First Peoples Principles of Learning
Social Studies Department Action Plan: Consensus Circles
Support with the initiative to use consensus circles repeatedly throughout the year in all social studies classrooms
Consensus Circle question formation and ongoing support with initiative
Survey was created by Mathew Llyod to help collect data on the learning of students through consensus circles
Social Studies Department: Book Study
Reading An Inconvenient Indian by Thomas King with entire Social Studies department
Novel was discussed two chapters at a time, with discussion and sharing of resources that would connect these materials to the everyday classroom.
School Wide Weaving Initiative
Through woven squares, students and staff were invited to engage with the First Peoples Principles of Learning with hands on participation
Role modelling on how to engaged in the practice of valuing Indigenous knowledge without appropriating cultural activities.
The mural design elevated the ideas and perspective of several grade 12 Aboriginal students
The process of creating the mural and squares was directly connected to First Peoples Principles of Learning namely the following principles:

Learning recognizes the role of indigenous knowledge

Learning involves patience and time

Learning is experiential and relational (focus on connectedness)
TEACHER FEEDBACK ON WEAVING INITIATIVE
Students participated in weaving, an activity outside of their comfort zone. In weaving, students could identify the principles at the end of the session, and explain how they were present in the activity. Instead of being told what these principles were, students selected the relevant principles at the end of the session, lending to a deeper understanding of the principles. Students were also invited to think about pride in culture, role modelled by the mural having been created by the Aboriginal grade 12 students. To have them think about the sharing of these students through their mural design as brave due to the historical actions of the Canadian past. This idea of participating in the mural weaving as an act of respect, created a feeling of community, also lent directly to the First Peoples Principles of Learning.
STUDENT FEEDBACK ON WEAVING INITIATIVE
Engaged and invested in the final woven product.
Those who enjoyed the experience, sought out the weaving during FLEX block on their own time.
Resonated with students to feel pride in their culture no matter your background.
Initial confusion and demand to see 'the point' and relevancy of the activity. However, through the experience, students came to understand the community aspect of the activity. It takes many to contribute to a large initiative. The need for patience and time was clear – the need to support and help one another through the different steps was practiced consistently.
Reflection on how learning is stronger when experienced and hands on.
ABORIGINAL STUDENT FEEDBACK
It was felt that it was important to gather feedback from our Aboriginal students in order to gauge their response to initiatives involving them and their heritage. We hope to improve the questionnaire in the future and increase the sample size of the respondents, but overall, the feedback seemed positive:
13 students responded to the survey.
Question #1 – Have you noticed school initiatives or classroom content this year that include Aboriginal peoples, Aboriginal worldview/perspectives? All students answered yes.
Question #2 – If yes, what are examples of the initiatives, activities and what subject? Were these initiatives successful? Why or why not?
These are some of the things that students referenced:
Lots of activities, movies, drawing lessons, art, acknowledgement and FPPoL posters in classes, Indian Horse screening, geography class, weaving and cooking. The BC First Nations course and social studies classes in general were referenced a number of times along with the Aboriginal program, worker and room. Two students indicated that they liked the fact that so many students from around the school were involved. one indicated that "Aboriginal culture and history is well represented throughout school curriculum. Aboriginal program room was a well run welcoming place".
Question #3 – Do you have any suggestions on future initiatives? What would you like to be included or focused on?
All students should take BC First Nations, more food, more cultural field trips, the addition of a First Nations English class, additional focus on Metis, weaving, history of chiefs. A number indicated that they liked what was happening and that changes weren't needed.
NEXT STEPS
Continue to create opportunities for students and staff to engage with First Peoples Principles of Learning in an authentic manner, specifically by role modelling, experiential lessons and understanding through doing. It doesn't necessarily mean it has to be a school wide initiative every year. It does however need to be a process where staff can opt into the process easily as to encourage maximum participation.