This page contains pictures, videos and descriptions of activities that are occurring around the school that support the School Action Plan for Learning.
In a Chemistry 12 class, students were researching factors affecting reaction rate of decomposition of bleach. Often, science classes can teach concepts through labs that look more like students following a recipe. In this case, students are presented with a problem and provided equipment that will help them to solve it. They have to work like scientists rather than learn about science – a lab that is both authentic and promotes self-direction. Here are some things the students had to say after learning through an open-ended lab rather than working through instruc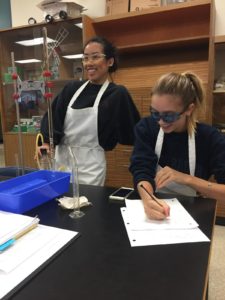 tions in a textbook:
"This is fun! But you really need to be prepared since there is no textbook to follow."
"This requires teamwork, thorough planning, time management and deeper understanding."
In Physics 12, students were tasked with assessing the scene of a car accident in order to determine who was at fault in the collision. Afterward, the students needed to assess BC traffic laws and produce a video explaining what they learned from the accident and determining who was at fault. Here is a video produced by two of the students, Enrique and Liza. Here, students are applying what they know to authentic real world problems and generating content that shows their learning and provides instruction to other students. Click on the picture to view the video.
The REMSS Rec Leadership class had the exciting opportunity to buddy-up with and mentor students from Ms. Gaudreault's grade 2 class from Richard Bulpitt Elementary on February 14.
The first activity had the REMSS students acting as big buddies for a sewing  project where the students created their own Tic Tac Toe game. Next, the buddy groups decorated Valentines Day cookies together. Overall, it was a great experience for both classes. Rec. Leaders show evidence of self direction and authenticity as they generate their own activities to use while mentoring these kids.
They further exemplify these attributes as they host events like the B.C. Basketball and Volleyball Championships, running the score tables for each of the events and developing the Halloween Spooktacular, an opportunity for children around the neighbourhood to trick or treat through the school and take part in other spooky events. Money raised goes to local charity too.
This year we wove a blanket as a school-side project. Through woven squares, students and staff were invited to engage with the First Peoples Principles of Learning with hands on participation. The activity provided role modelling on how to engaged in the practice of valuing Indigenous knowledge without appropriating cultural activities. The mural design elevated the ideas and perspective of several grade 12 Aboriginal students
The process of creating the mural and squares was directly connected to First Peoples Principles of Learning namely the following principles:
Learning recognizes the role of indigenous knowledge
Learning involves patience and time
Learning is experiential and relational (focus on connectedness)